Ready For Premier IV Hydration Services?
Welcome To Raider Rehab!
Call Us Today (806) 758-7911
Open Daily From 9:00 AM to 7:00 PM
Raider Rehab provides mobile IV therapy services in the comfort of your own home or other desired location. We were founded and owned by first responders in the Lubbock community. Raider Rehab strives to promote overall wellness and health to all patients. We offer state of the art IV therapy containing vitamins, minerals, and amino acids. Raider Rehab offers multiple IV packages that are clinically proven to help with hangovers, low energy, and overall wellness. We can also build a custom IV package that is intended to help with your specific complaints. All IV treatments are performed by certified paramedics or registered nurses and backed by a licensed physician.
-Scotland & Landry,
How Does Mobile IV Hydration Work?
Step 1
Select your IV package from our list of physician-reviewed hydration services.
Step 2
Use our online scheduling system to make your appointment with Raider Rehab.
Step 3
A Raider Rehab team member will contact you to confirm your appointment details.
Step 4
A Raider Rehab Mobile IV Technician will meet you and verify your health history.
Did You Know?
IV therapy is the same treatment performed in a hospital setting but will cost a fraction of the price, and the treatment will be performed in the comfort of your own home or desired location.
The Myers
Our best selling package to get you back to feeling great! This package is loaded with vitamins, minerals, and antioxidants.
One Liter IV Fluid

B Complex

B12

Vitamin C

Glutathione

Zinc

Magnesium
The MEGA Myers
The ultimate of all of our hydration packages. Everything in our Myers plus DOUBLE the vitamins, minerals, and antioxidants.
One Liter IV Fluid

B Complex (Double the Dose)

B12 (Double the Dose)

Vitamin C (Double the Dose)

Glutathione (Double the Dose)

Zinc (Double the Dose)

Magnesium (Double the Dose)
Power Hour
The perfect package to reduce or eliminate a hangover before drinking
Cold & Flu
Hydration, pain relief, and immune boosters for you to start feeling better
One Liter IV Fluid

Vitamin C

Toradol

Zofran/Phenergan
Hangover Cure
Everything you need to get you back in the game after a long night out
One Liter IV Fluid

Zofran/Phenergan

Thiamine

Glutathione

Toradol
All American
Ideal for athletes, manual labor, and those suffering from migraines
One Liter IV Fluid

Toradol

Magnesium Sulfate

Vitamin C
Kardashian
For overall beauty and promotes healthy skin, hair, and nails.
One Liter IV Fluid

Vitamin C

Biotin

Multivitamin Infusion

Glutathione
Pick Me Up
For overall body boost, metabolism, and optimal health improvement
One Liter IV Fluid

Vitamin C

B12

Multivitamin Infusion
Project X
Everything you need to boost your entire body
One Liter IV Fluid

Vitamin C

Multivitamin Infusion

B12 Injection

Toradol

Glutathione
B12 Injection
Ready for an energy boost? Try the B12 injection!
Frequently Asked Questions
Are services available to COVID-19 positive patients?
To protect our team and other patients, services are not available to COVID-19 positive patients.  We require 5 days from the date listed on the positive test and proof.
Do you travel outside of the Lubbock area?
Yes, we will travel outside of the Lubbock area for an additional cost.  Pricing details are below and subject to change.  If your city is not listed, contact us for pricing information.
| | |
| --- | --- |
| Service Area | Additional Cost |
| Abernathy | $40 |
| Brownfield | $55 |
| Buffalo/Ransom Canyon | $25 |
| Idalou | $30 |
| Levelland | $45 |
| Littlefield | $60 |
| Lorenzo | $45 |
| Plainview | $80 |
| Post | $75 |
| Seminole | $110 |
| Shallowater | $25 |
| Wolfforth | $20 |
Do you accept medical insurance?
Unfortunately, we do not accept medical insurance.  We only accept cash and credit/debit cards for services rendered.
How long does an appointment take?
An appointment generally will last 30 minutes to an hour.
How long will patients benefit from IV services?
On average, patients will benefit for 10-14 days.  There are multiple factors that play a role such as hydration, diet, and physical exertion levels.
How often can a patient receive services?
Generally, we recommend no more than one IV hydration per week.  If you are needing more frequent services or have special circumstances, please contact us for more details.
What if I am not able to find my desired appointment date/time?
Our scheduling system will show real time availability to allow you to select the best day and time that will work with your schedule.  If we do not have availability, we are working with other patients.
What if I have other questions?
Our team is standing by and available to help answer your questions.  Please contact us with any additional questions.
Meet The Raider Rehab Team
Beau McCrory, M.D.
Dr. McCrory is an emergency medicine physician who received his medical degree from the University of Texas Medical School. He is certified with the American Board of Family Medicine (ABFM). Dr. McCrory oversees the team at Raider Rehab to ensure IV services are delivered safely and professionally. He is thrilled to leverage his medical expertise to help West Texans start feeling better again.
Landry Brown
Landry has had the entrepreneurial spirit as long as his colleagues can recall. Whether behind the bat as a Coronado Mustang or on a local accident scene as a first responder, he has pursued his passion with a burning intensity. As a decorated Firefighter/Paramedic, he has served diligently within the community and a proud member of the Raider Rehab team.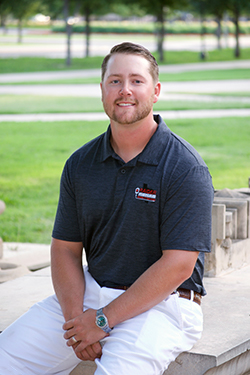 Scotland Church
Scotland is a Lubbock native. He is a graduate of Oregon State where he competed in baseball in the PAC-12 for three seasons and graduated in 2017. Scotland returned to the hub city to attend graduate school and play outfield at Lubbock Christian University. Highly motivated with entrepreneurship and real-estate investing experience; he is the Director of Operations and Events for Raider Rehab.
Have A Question? Let's Talk.
Whether you have a question regarding one of our IV packages or the hydration process, Raider Rehab is standing by to assist you in providing the best service possible.  We are open daily from 9:00 AM to 7:00 PM for your convenience!
Group Rates
Interested in booking IV services for a group of friends or family?  Please use our contact form or send an email for pricing information.
Contact Form:
Please complete the form and we will be in touch as soon as possible.
Phone:
(806) 758-7911
Email:
[email protected]